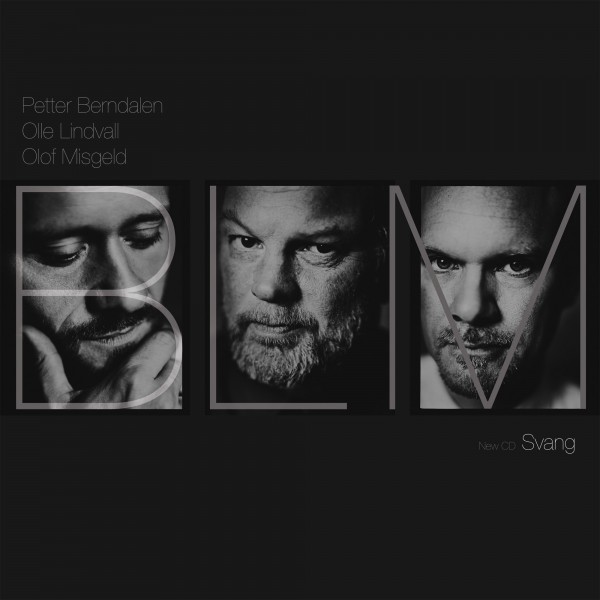 Disc reviews are streaming in for CDs BLM "Svang" with Petter Berndalen, Olle Lindvall and Olof Misgeld.
Below you can read reviews from the newspapers Dalademokraten, Nerikes Allehanda, Ljusnan, Uppsala Nya Tidning and LIRA. Translated to english.
Click this link to order the album!
BLM
Svang
Label: Playing With Music / Border
Rating: 4 out of 5
Reviewed by: Magnus Börjesson, Nerikes Allehanda 3/5 2013
FOLK / JAZZ. The three musicians of BLM have been playing together since 2003. A ten-year start-up period they release their debut album. With jazzy groove and a hefty dose of improvisation gives us the trio Olle Lindvall, guitar, Olof Misgeld, violin and Petter Berndalen, percussion, twelve brand new songs, most of them autographed Lindvall, and a whole new sound.
I have previously acclaimed Olle Lindvall for his great songs and excellent play on nylon string guitar. In this company he grows further. Olle and Olof has certainly played together before, but with Petter Berndalen´s constructive percussion playing, it feels like the circle is coplete. This is not about two melody instruments and accompaniment, but three equally significant voices regardless songs character; melodic fusion, rock or lyrically thoughtful.
BLM
Svang
Label: Playing With Music / Border 

Reviewed by: Lars Lind, LIRA
Petter Berndalen, Olle Lindvall and Olof Misgeld together BLM. They play music that both sneaks, floats, bounces, and head off in different directions in different moods (and I do not mean the instruments tuning). Olle Lindvall (acoustic guitar) has composed all the songs except one, Myrslingerbulten by Olof Misgeld (violins). And then there's this Petter Berndalen, the man who plays folk music on percussion. The newly composed folk music, some traditional and many innovative elements. The tracks provide space for improvisation. It's innovative and advanced, you could call it intellectual folk. Here's pensive music, as in Ensam Igen. Or driving in Hopp Salomon. But the favorite will eventually Trolltämjaren, a very nice melody which becomes the supreme groove before the song comes back to take the song in goal. The disc is gradually growing, with a listening patience you will get the reward.
BLM
Svang
Label: Playing With Music / Border
Reviewed by: Lennart Götesson, Dalademokraten Kultur 5/14 2013
Folk music is the tag, but the BLM is not easy to label. It's folk, but more than that. There is improvisation, and there are hints of more. BLM's surname initials of Petter Berndalen, percussion, Olle Lindvall, guitar and Olof Misgeld, violin and viola. Olle Lindvvall has composed most of the music. It is modern and folk music features, but can it be called folk music? BLM might play in a new genre. Shall we say modern folk music? But ignores the labels and listen, it's a CD with interesting music and be aware that there are really only two kinds of music: good and bad. Never mind that it is highly subjective and individually what you think. I put the BLM in GOOD.
BLM
Svang
Label: Playing With Music / Border
Reviewed by: Ulf Gustavsson, Uppsala Nya Newspaper
Gracefully and exciting.
This meeting of the trio format is both highly evolved, relaxed and playful.
Fiddle player Olof Misgeld, guitarist Olle Lindvall and percussionist Petter Berndalen plays with small print medium, sometimes as if they did not want to wake the neighbors, in an exciting mix of composed and improvised, Swedish folk and contemporary transnational improvised music.
Fascinating how well they follow each other, comments, and uses silences.
Best track: Gråspetten.
BLM
Svang
Label: Playing With Music / Border
Reviewed by: Thord Enberg, magazine Ljusnan 4/6 2013
BLM is the initials of the participating musicians. Petter Berndalen percussion, Olle Lindvall guitar and wrote all of the songs except one, Myrslingerbulten, beautiful ballad, by the violinist Olof Misgeld. Petter spent his youth in Bollnäs and began playing drums in local bands and occasional sets. He now lives in Stockholm and has studied at the Royal College of Music and received Royal Academy Folk Music Price 2008. Honorable indeed and well deserved. Having already met in 2003 BLM will finally launch their debut CD. It must be said at once that it is not a pure jazz record but is more about the folk/improvisation in fusion where the three musicians with playful skill develops their own personal colored music.
It swings calmly nicely on Hopp Solomon, who have underlying evocative blues-filled tone. Trolltämjaren, Theresian Fusion and Georgetown, frisky folk songs where the musicians expand boundaries with intensity in the game. The CD's opening is also delicious with sparkling play in Lömska Glömskan. So we alternate this with beautiful and understated Jona, Gråspetten and gloomy Ensam Igen, in pensive soft beautiful game with emotion.
The album is filled with rhythm and private dyed folmusik/improvisation characters, with splashes of many cultures.