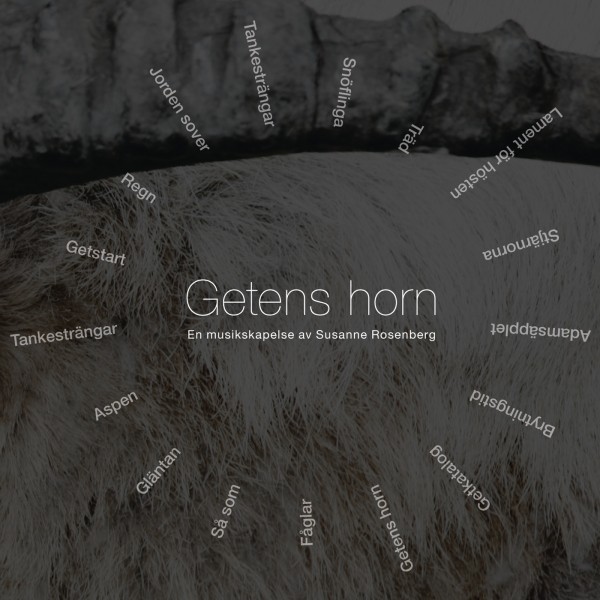 When Susanne Rosenberg's doctoral thesis and dissertation was released 5/31 2013 Susannes latest CD "Getens Horn" (The Goat´s Horn) was released on my label Playing With Music. Susanne Rosenberg is one of the most famous folk singers in Sweden with a wide range of productions behind her. Here are Susanne back on PWM with a new CD after the last solo album (ReBoot/OmStart 2010).
The Goat's Horn is a musical piece by Susanne Rosenberg for this odd ensemble of five voices, three cellos and three accordions. It is a continuous suite of music, a story woven of musical associations above a base of new Swedish folk music. The Goat's Horn is about how we put ourselves in a context; how, with the help of stories and parables as a mirror on ourselves, we define our experience and create a framework for our existence. The Goat's Horn wants you to sharpen your mind and find the greatness in the smallest things. Here are eleven musicians who do the unexpected, the naïve; from clicks and sounds and quiet madness to strong rocking swing.
At the core of the piece are texts inspired from old traditional creation stories and myths, and also from current scientific stories of evolution and physics.
She has assembled ten of the country's foremost folk musicians of the moment, for this piece that was composed specifically for this odd ensemble of voice, cello and accordion. It is a headstrong musical creation with varied vocal styles, bass-heavy and riff-centred approaches, all combined with the lyrics' sinuous and rough strands
Voice: Ulrika Bodén, Karin Ericson-Back, Maria Misgeld and Sofia Sandén.
Celli: Jonas Bleckman, Anders Löfberg and Leo Svensson.
Accordion: Isak Bergström, Lisa Eriksson and Leif Ottosson.
Contact: Susanne Rosenberg, +46(0)706710139
info(a)susannerosenberg.com